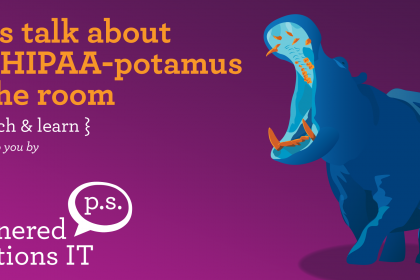 Here at Partnered Solutions IT, we work with a number of medical offices and clinics that are beholden to HIPAA regulations. Keeping patient data safe is key for your practice, and making sure that happens is what we're here for. At our Lunch and Learn we will be giving you the information needed to understand HIPAA and how to keep your data secure.
Here are the topics our HIPAA experts will be covering during the Lunch and Learn:
What HIPAA is, and why it's beneficial to you and to your clients
What it means to be HIPAA compliant with respect to your technology
What happens if a breach occurs and steps for mitigation
How to make a plan that is effective in preventing a breach before it happens
Answers to your additional questions about HIPAA
We're excited to talk to you about HIPAA and how we can help your company. Partnered Solutions IT has been serving the medical industry in Lane County for years and has since expanded to Southern Oregon. We want to make sure your business is equipped with the necessary tools to protect your patient's health information. Register for our Lunch and Learn today and don't miss out on this opportunity!
If you're local to Eugene, register here:
https://www.eventbrite.com/e/91918467611
If you're local to Medford, register here: